Nikola Corporation Reports Second Quarter Results
Business Combination with VectoIQ Completed

Global Manufacturing Head and Nikola Energy Company President Added to World-Class Team

Nikola Manufacturing Facility Buildout Continues in Ulm, Germany

Nikola Breaks Ground for Greenfield Manufacturing Facility in Coolidge, Arizona
August 4, 2020 — Phoenix, Arizona — Nikola Corporation (Nasdaq:NKLA), a global leader in zero-emissions transportation systems, today reported financial results for the second quarter of 2020.
"In the second quarter of 2020, Nikola met predetermined milestones on our journey toward becoming the zero-emissions transportation leader in the global heavy truck market," commented Mark Russell, Nikola's Chief Executive Officer.
Steps towards achieving this goal include completing a reverse merger with VectoIQ and a related PIPE offering, providing an additional $616.7 million of cash on the balance sheet to support Nikola's further product development, and the buildout of manufacturing infrastructure.
Product development is on track to meet the established timeline for the start of production of the Nikola Tre in Q4 2021. Initial units will be produced at the Ulm, Germany facility, where modifications are currently underway. Once complete, this facility will be capable of producing up to 10,000 units per year.
In addition to the buildout of Nikola's production capacity in Ulm, Germany, on July 23, 2020, Nikola broke ground on its greenfield manufacturing facility in Coolidge, Arizona. Once completed, the Coolidge manufacturing facility will be capable of producing up to 35,000 trucks per year at full capacity on two shifts. Phase one of this construction is expected to be complete by Q4 2021.
Other Key Business Highlights
Signed a purchase order with Nel for electrolysis equipment capable of producing up to 40,000kg of H2 per day.

Nikola Tre production test units are underway in Ulm, Germany and are scheduled to be complete in Q4 2020.

Nikola called for redemption of outstanding public warrants in Q3 2020.
Purchase Order for Electrolysis Equipment from Nel
In June, Nikola signed a purchase order with Nel ASA (Nel, OSE: NEL) for 85-megawatts of alkaline electrolyzer capacity. This purchase order will support up to five of Nikola's hydrogen generating and dispensing stations. At capacity, these stations are expected to generate up to 40,000 kgs of hydrogen fuel each day, which would support up to 1,100 Nikola Two FCEV trucks.
Nikola's hydrogen fueling and battery charging activities are being overseen by the newly-hired President of Nikola Energy, Pablo Koziner. Koziner is a 19-year veteran of Caterpillar, and most recently served as Vice President of CAT Electric Power and as President of Solar Turbines.
Nikola's Ulm, Germany Manufacturing Facility
Iveco's Ulm, Germany Manufacturing Complex. Once completed, this facility will be capable of producing up to 10,000 trucks per year, and will produce the first Nikola Tre BEV trucks to be delivered to customers in the U.S.
Upon completion of Nikola's greenfield manufacturing facility in Coolidge, Arizona, the Ulm facility will be utilized to manufacture and supply trucks to the European market.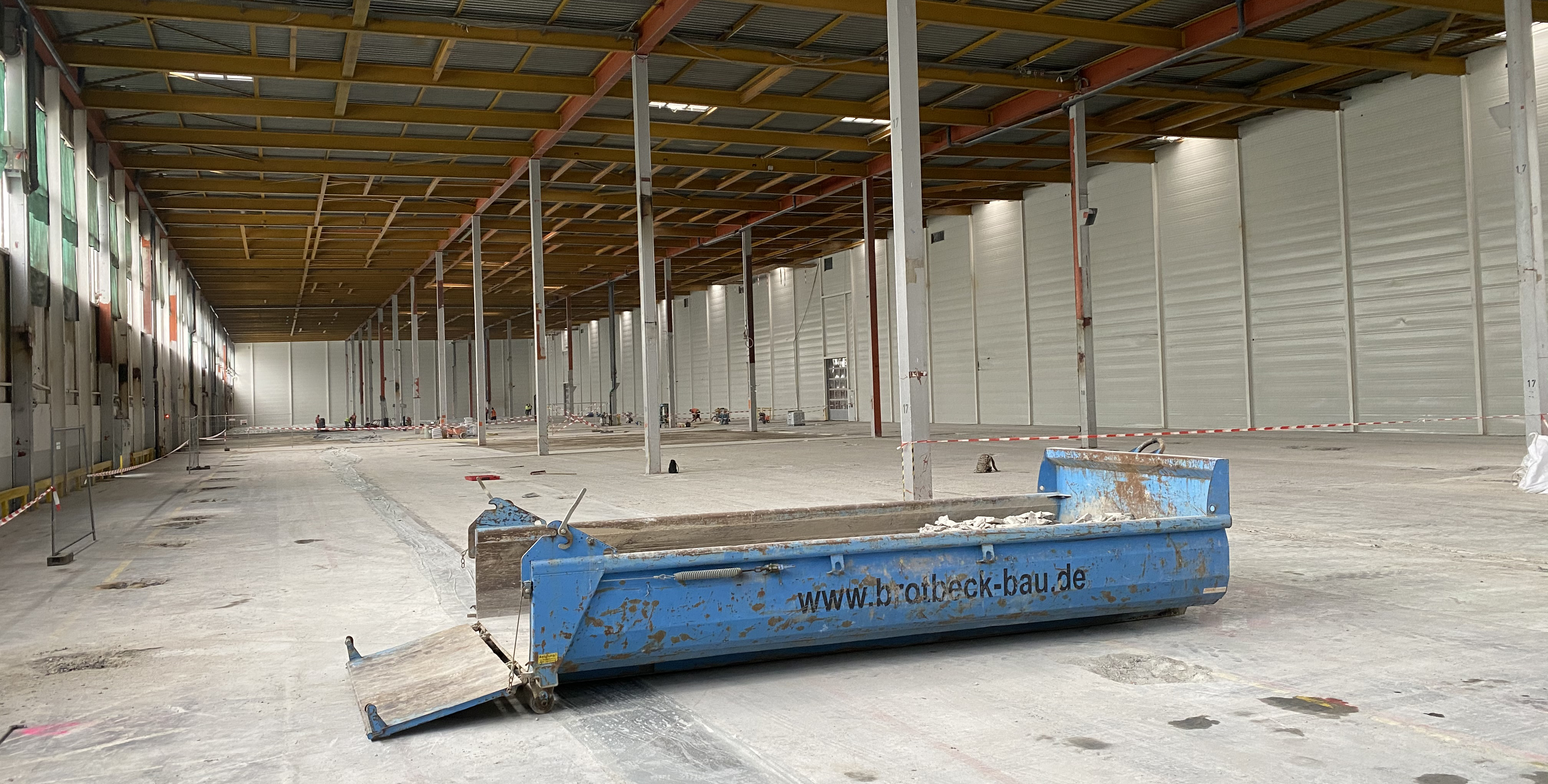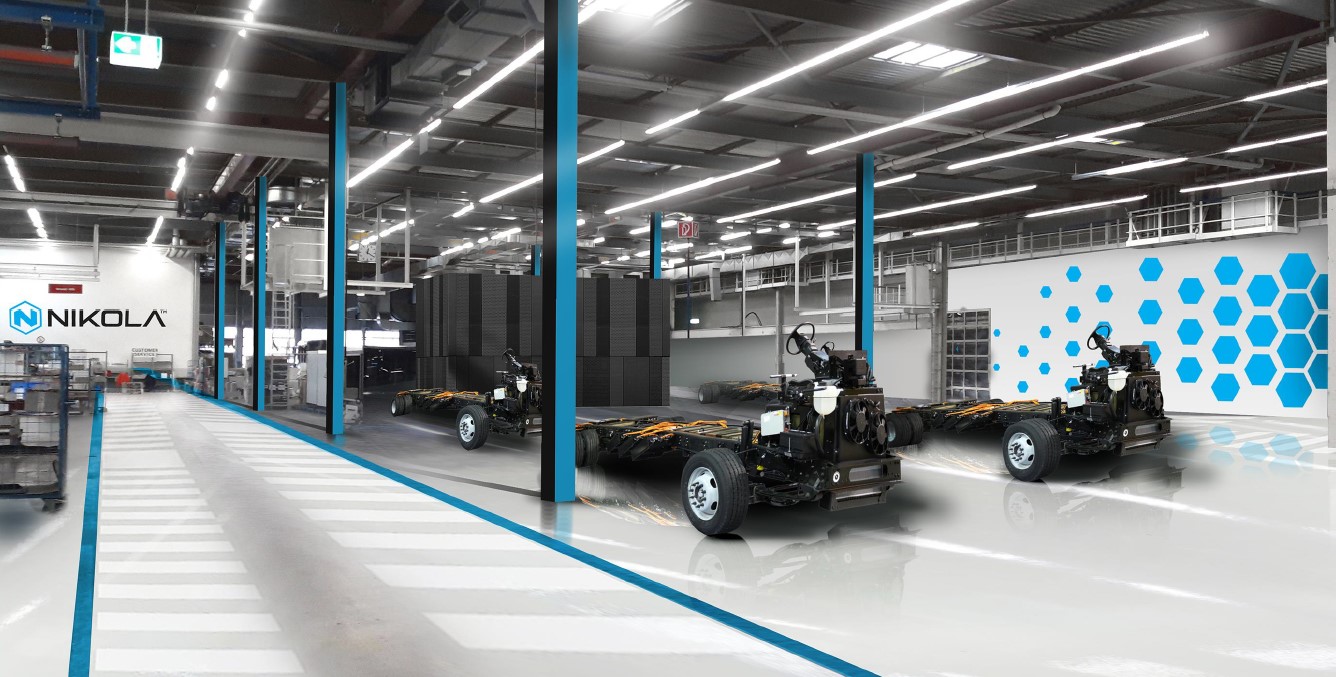 Coolidge Manufacturing Facility
On July 23, Nikola broke ground on phase one of the U.S. manufacturing facility in Coolidge, Arizona. Nikola anticipates phase one of the manufacturing facility will be complete by Q4 2021. Nikola is working with Walbridge, the leading U.S. automotive facility construction organization.
Nikola's manufacturing facilities buildout is being overseen by Mark Duchesne, Nikola's newly hired Head of Global Manufacturing. Duchesne is a 5-year veteran of Tesla and a 22-year veteran of Toyota. Mark oversaw the design and development of the innovative Model S and Model X production lines at Tesla, and at Toyota, he was instrumental in the design and development of a $900M greenfield facility.
Nikola Calls for Redemption of Warrants
On July 22, Nikola issued a notice of redemption for its public warrants. By calling the public warrants for redemption, Nikola expects to raise an additional $264.5 million in cash through the exercise of the 23 million outstanding public warrants at an exercise price of $11.50. As of July 30, 2020, 18.1 million warrants (approximately 79% of all outstanding public warrants) had been exercised, providing Nikola with an additional $208 million of cash on the balance sheet to date.
Effects of COVID-19
Throughout the unprecedented disruption caused by COVID-19, Nikola's management team has strived to advance its mission of achieving zero-emission transportation while maintaining the health and safety of our employees. The global pandemic caused disruption in Nikola's supply chain, but mitigation efforts are underway to reduce the resulting risk to production timelines. At this time, we believe Nikola's long-term objectives will be materially unaffected by COVID-19.
Second Quarter Financial Highlights

Business Outlook
Nikola intends to begin fleet testing Tre BEV units in 2021 with select customers and partners. The data received from the fleet testing program will be critical as we move toward low volume production of the Nikola Tre BEV. Management is optimistic as we continue to achieve milestones toward our greater goal of becoming the leader in the zero-emissions transportation industry.
Webcast Information
Nikola will host a webcast to discuss the results at 1:30 p.m. Pacific Time (4:30 p.m. Eastern Time) on August 4, 2020. To access the webcast, parties in the United States should follow this link: https://webcasts.eqs.com/register/nikolacorp2020080416_en/en. The live audio webcast along with supplemental information will be accessible on the Company's Investor Relations website at https://nikolamotor.com/investors/news?active=events. A recording of the webcast will also be available following the earnings call.
About Nikola Corporation
Nikola is a vertically integrated zero-emissions transportation systems solution provider that designs and manufactures state-of-the-art battery-electric and hydrogen, or H2, fuel cell electric vehicles, electric vehicle drivetrains, energy storage systems, and hydrogen fueling stations. Nikola's core product offering is centered around its battery-electric vehicle, or BEV, and hydrogen fuel cell electric vehicle, or FCEV, Class 8 semi-trucks.
Forward-Looking Statements
This press release contains certain forward-looking statements within the meaning of federal securities laws with respect to Nikola Corporation (the "Company"), including statements relating to the Company's future performance; expected timing of manufacturing facility buildout and production capacity at such facilities; expectations regarding the Company's hydrogen fuel station capacity; plans for fleet testing and utilizing data from such testing; expectations regarding the redemption of public warrants; and the effect of COVID-19 on the Company's business. These forward-looking statements generally are identified by words such as "believe," "project," "expect," "anticipate," "estimate," "intend," "strategy," "future," "opportunity," "plan," "may," "should," "will," "would," and similar expressions. Forward-looking statements are predictions, projections and other statements about future events that are based on current expectations and assumptions and, as a result, are subject to risks and uncertainties. Many factors could cause actual future events to differ materially from the forward-looking statements in this press release, including but not limited to the factors, risks and uncertainties regarding the Company's business described in the "Risk Factors" section of the Company's current report on Form 8-K, as amended, filed with the Securities and Exchange Commission (the "SEC"), in addition to the Company's subsequent filings with the SEC. These filings identify and address other important risks and uncertainties that could cause the Company's actual events and results to differ materially from those contained in the forward-looking statements. Forward-looking statements speak only as of the date they are made. Readers are cautioned not to put undue reliance on forward-looking statements, and, except as required by law, the Company assumes no obligation and does not intend to update or revise these forward-looking statements, whether as a result of new information, future events, or otherwise.
Use of Non-GAAP Financial Measures
This press release references Adjusted EBITDA, a non-GAAP financial measure. The Company defines Adjusted EBITDA as earnings before interest expense, taxes, depreciation and amortization, stock-based compensation expense, and certain other items the Company believes are not indicative of its core operating performance. Adjusted EBITDA is not a substitute for or superior to measures of financial performance prepared in accordance with generally accepted accounting principles in the United States (GAAP) and should not be considered as an alternative to any other performance measures derived in accordance with GAAP.
The Company believes that presenting Adjusted EBITDA provides useful supplemental information to investors about the Company in understanding and evaluating its operating results, enhancing the overall understanding of its past performance and future prospects, and allowing for greater transparency with respect to key financial metrics used by its management in financial and operational-decision making. However, there are a number of limitations related to the use of non-GAAP measures and their nearest GAAP equivalents. For example, other companies may calculate non-GAAP measures differently, or may use other measures to calculate their financial performance, and therefore any non-GAAP measures the Company uses may not be directly comparable to similarly titled measures of other companies.
Non-GAAP net loss and Non-GAAP net loss per share basic and diluted are presented as supplemental measures of the Company's performance. Non-GAAP net loss is defined as net loss adjusted for stock-based compensation expense and certain other items the Company believes are not indicative of its core operating performance. Non-GAAP net loss per share basic and diluted is defined as Non-GAAP net loss divided by weighted average basic and diluted shares outstanding.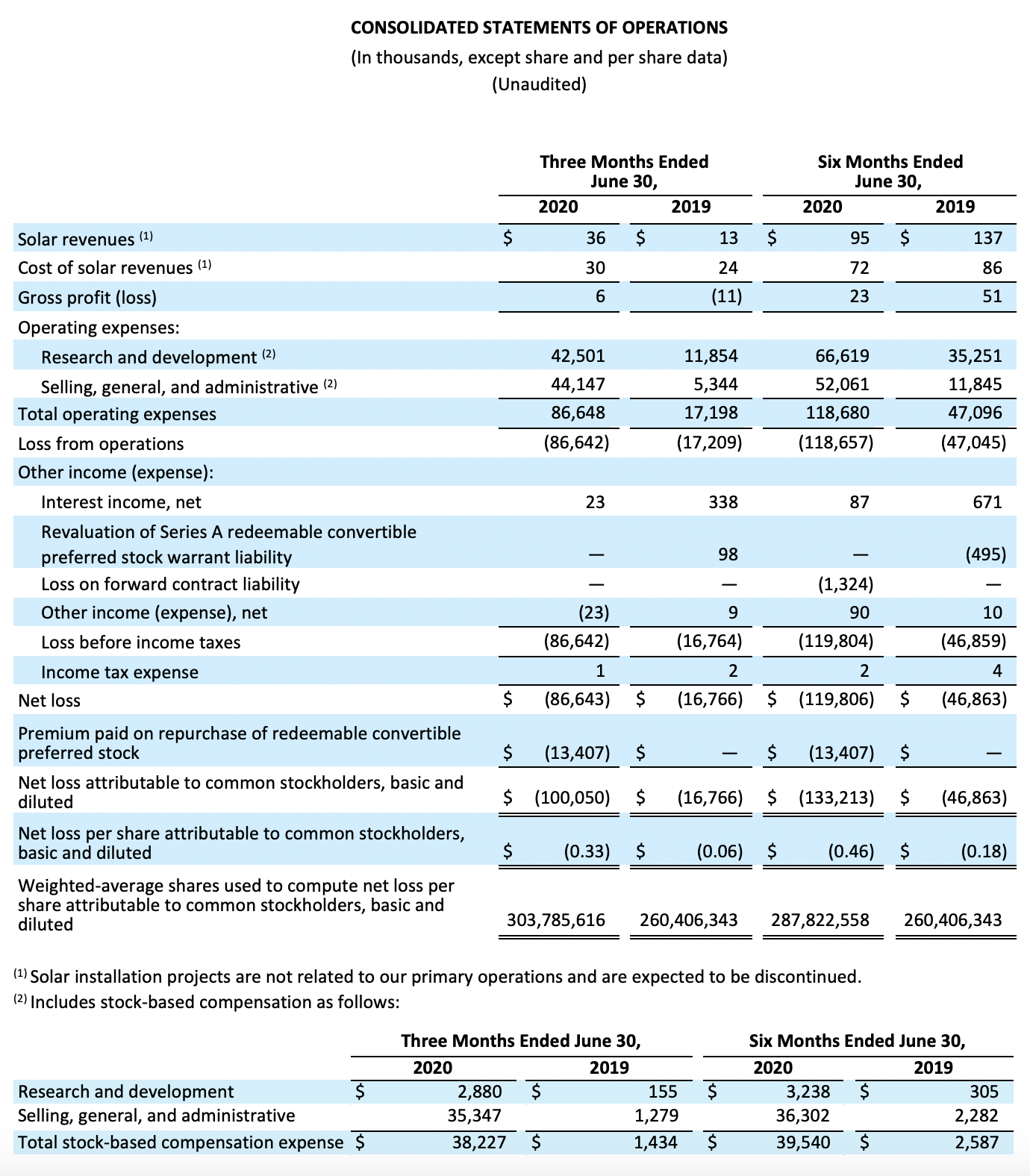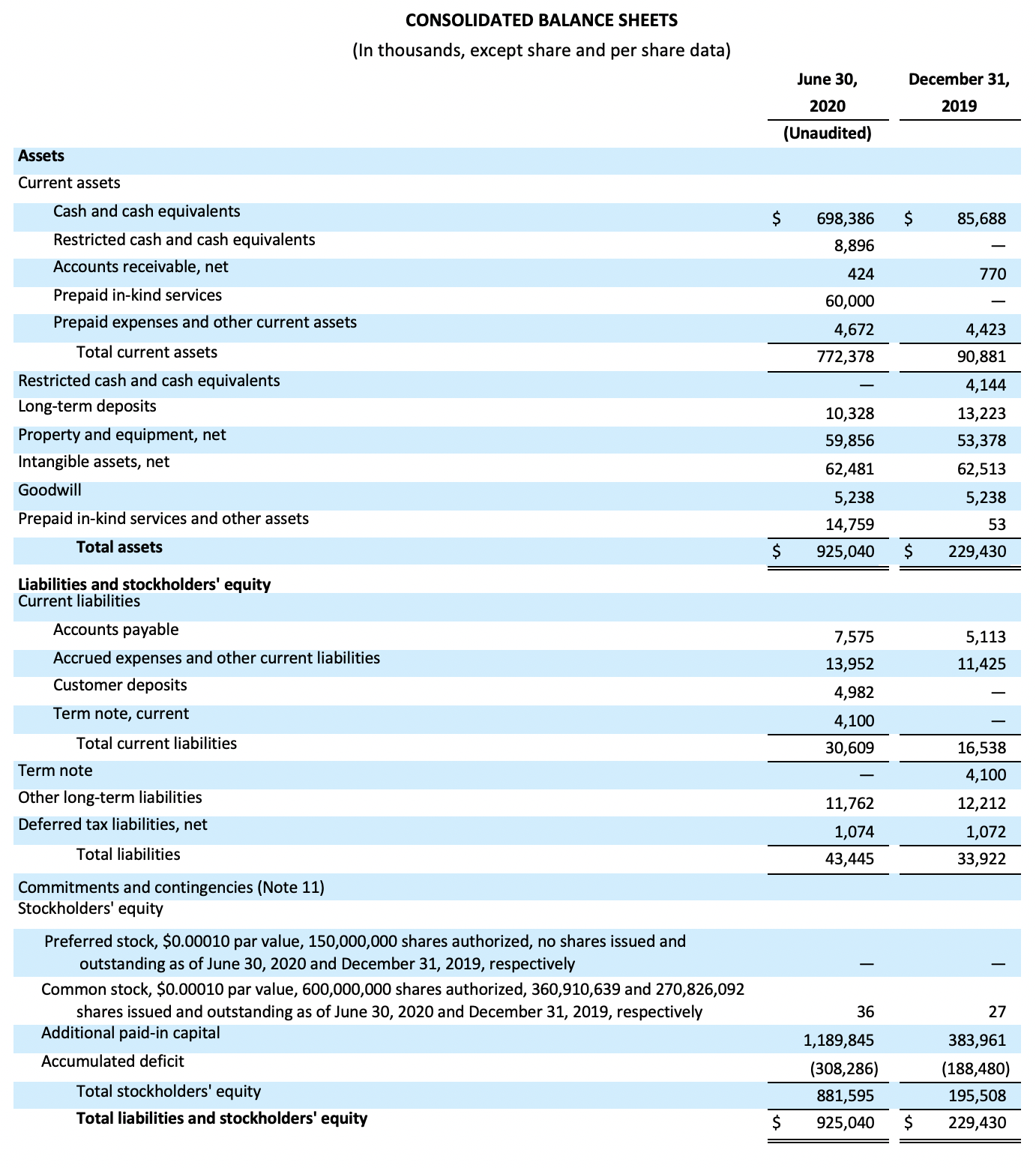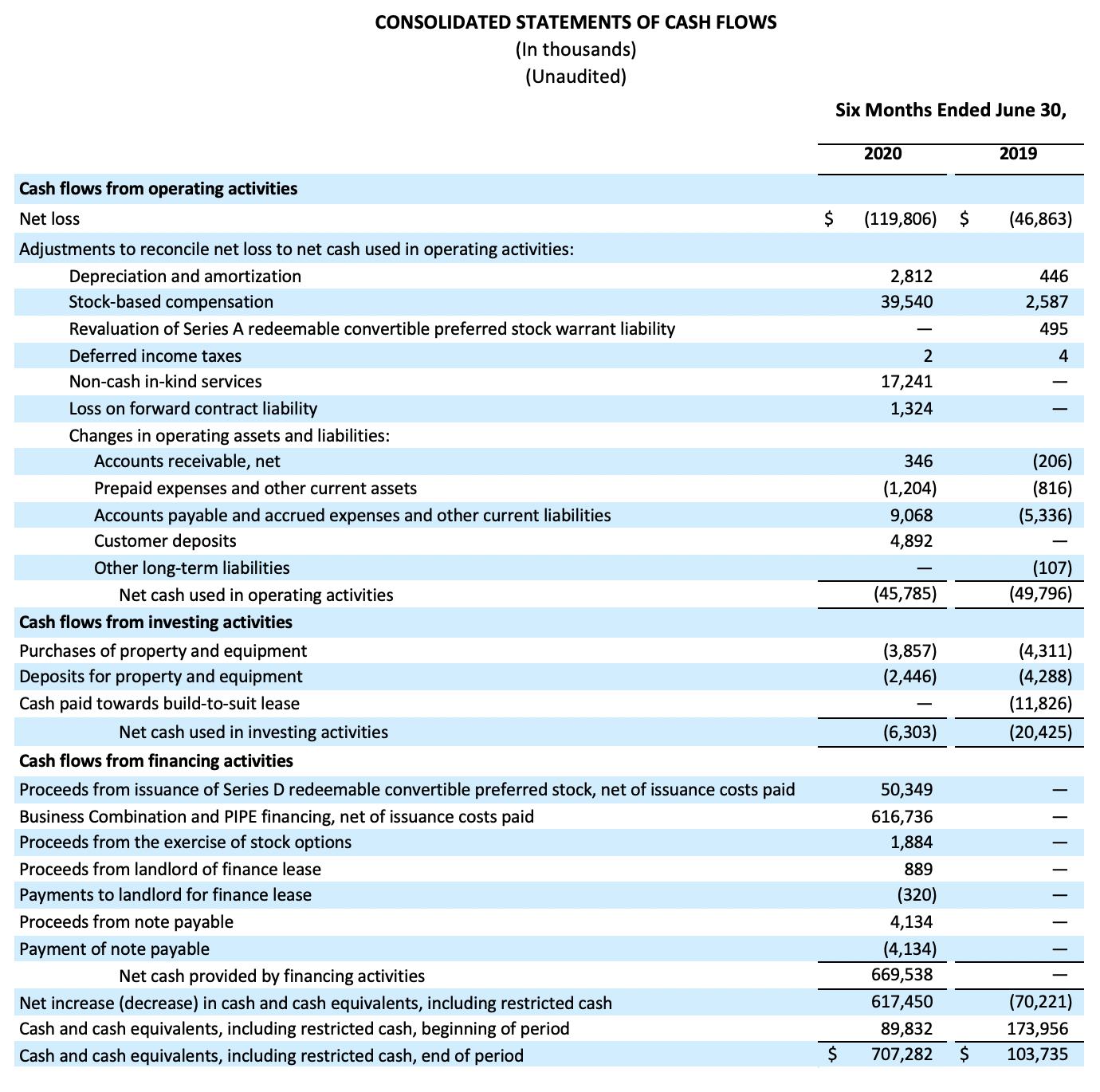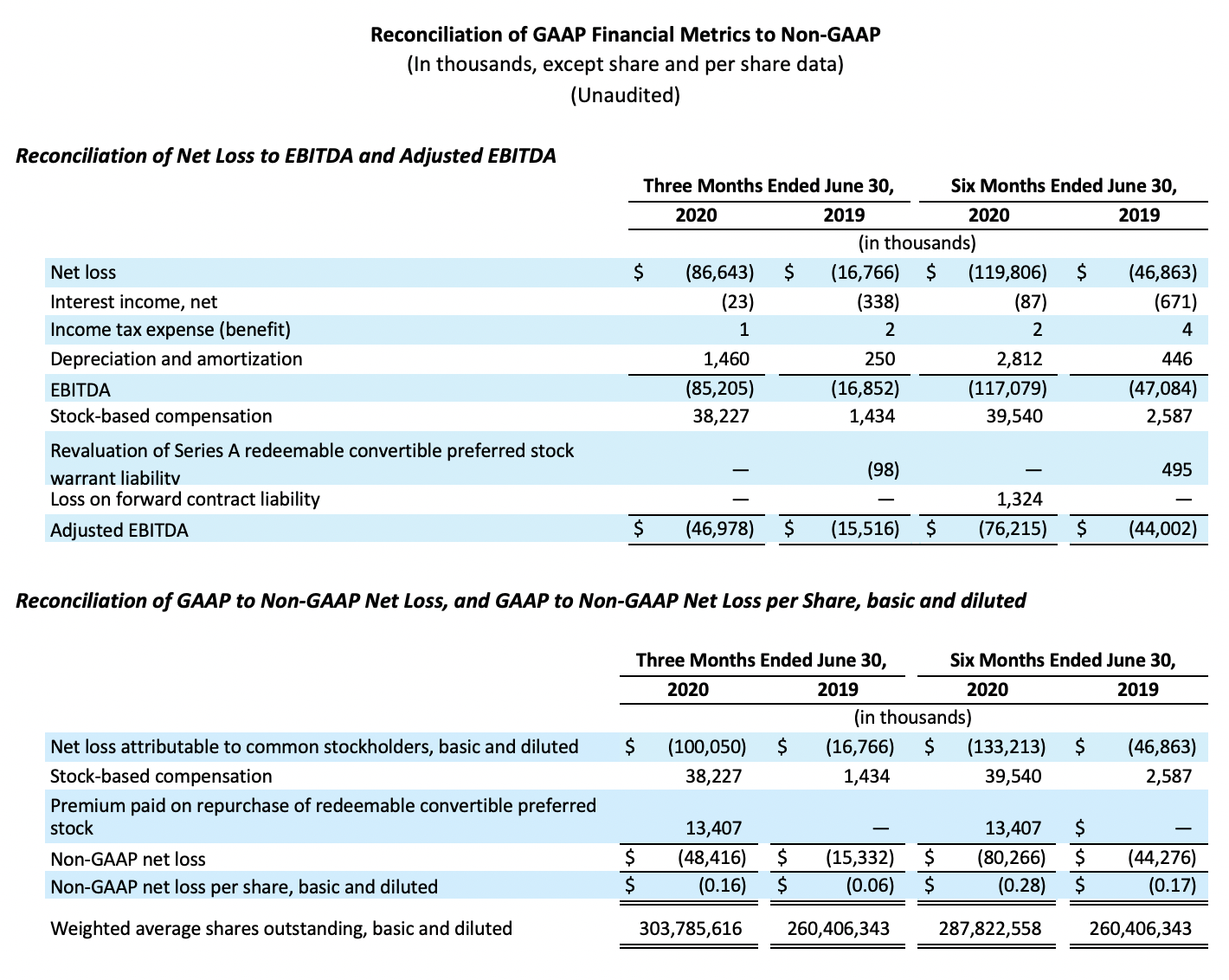 INVESTOR INQUIRIES: