Nikola Corporation Reports Third Quarter 2023 Results
During Q3 raised $250M, increasing unrestricted cash by $136.2M, and tripling unrestricted cash since Q1 2023
Continue to see strong demand for Nikola zero-emissions trucks propelled by regulation and incentive tailwinds

Received purchase orders for 47 battery-electric trucks from one dealer despite the truck being in recall

Dealers continue submitting HVIP applications for the battery-electric truck

To date, Nikola and our dealers have received 277 non-binding orders from 35 customers for the hydrogen fuel cell electric truck

Hydrogen fuel cell electric demos started in Southern California using mobile fueler and third-party fueling assets
Added deep management expertise hiring Mary Chan as COO and Joe Cappello as President of Energy
Continue to refocus the business model to ensure efficient allocation of resources
PHOENIX – November 2, 2023 — Nikola Corporation (Nasdaq: NKLA), a global leader in zero-emissions transportation and energy supply and infrastructure solutions, via the HYLA brand, today reported financial results and business updates for the quarter ended September 30, 2023.
"We are driving forward, capitalizing on our first-mover advantage with our hydrogen fuel cell electric truck and laying the foundation for the 'hydrogen highway' starting in California," said Nikola CEO Steve Girsky. "We think the competition is well behind us and believe there is white space for us to capture market share with the introduction of the Advanced Clean Fleets Rule, and incentives like HVIP and ISEF offering up to $288,000 and $408,000, respectively, per hydrogen fuel cell electric truck in California."
"I am proud of the Nikola team and have enjoyed leading such a talented and resilient group in my first quarter as CEO. We continue to attract world-class people to execute on our business plan and work towards establishing ourselves as the leader in zero-emissions commercial transportation."

Strong Industry Tailwinds
We believe there are strong industry tailwinds promoting the adoption of zero-emissions vehicles. In California, beginning January 1, 2024, all new trucks registered with the California Air Resources Board for operation in California ports must be zero-emissions. In addition to regulations requiring fleets to transition to zero-emissions trucks, there are also incentives such as HVIP and ISEF offering up to $288,000 and $408,000, respectively, per hydrogen fuel cell electric truck in California, promoting the purchase of zero-emissions trucks.
There are over 30,000 (1) trucks operating in California's ports, all of which will need to be replaced as they age. We believe this represents a significant opportunity for Nikola in the near term and are well on our way to capturing market share. As of October 27, 2023, for HVIP voucher requests in 2023, our hydrogen fuel cell electric truck represented approximately 96% of the created vouchers for hydrogen fuel cell electric truck-tractors, and our battery-electric truck represented approximately 50% of the created vouchers for battery electric truck-tractors. Our team is hard at work looking for every opportunity to sell our trucks and converting fleets to Nikola customers.

Hydrogen Fuel Cell Electric Truck
On September 28, 2023, we formally launched the model year 2024 hydrogen fuel cell electric truck at our state-of-the-art manufacturing facility in Coolidge, Arizona. The event attracted approximately 900 in-person attendees, including customers, dealers, suppliers, energy partners, members of the media, and government officials.
To date, Nikola and our dealers have received 277 non-binding orders from 35 customers for the hydrogen fuel cell electric truck. We remain laser-focused on go-to-market activities in California. Our sales team is on the ground daily working closely with our dealers and customers to find the best opportunities.
Customer demos have started in Southern California using hydrogen mobile fueling solutions and third-party fueling infrastructure to support fleet operations. To date, the hydrogen fuel cell electric trucks in demo have accumulated more than 6,000 miles while achieving 98% uptime.

Battery-Electric Truck
In August we issued a voluntary recall for the battery-electric truck. Upon further investigation, it was determined that the compromise of the battery packs was not limited to only the coolant manifold. As a result, our team has decided to replace the Romeo packs on existing customer battery-electric trucks with an alternative solution.
Costs to Nikola for this recall and repair is expected to be approximately $61.8 million (accrued as a warranty liability in Q3 2023), which includes the estimated cost to re-engineer, validate, and retrofit the battery-electric trucks that were previously sold with an alternative battery pack solution.
Actual cash disbursements are expected to take place over the next nine to 12 months and are expected to be partially offset by collection of $10.7 million of accounts receivable and a $13 million cash contribution from sale of the remaining battery-electric trucks in our inventory, resulting in an estimated net cash spend of $38.1 million. We anticipate delivering battery-electric trucks to customers again in Q1 2024.

Energy
With the launch of the hydrogen fuel cell electric truck, our team is focused on ensuring we have adequate hydrogen supply and fueling solutions to support customer operations. We have secured adequate hydrogen supply to support customer operations in 2023 and the beginning of 2024. Our energy team is working diligently ahead of truck sales to obtain additional supply and infrastructure solutions for 2024 and beyond.

Third Quarter Financial Highlights
Webcast and Conference Call Information
Nikola will host a webcast to discuss its third quarter results and business progress at 7:30 a.m. Pacific Time (10:30 a.m. Eastern Time) on November 2, 2023. To access the webcast, parties in the United States should follow this link: https://www.webcast-eqs.com/register/nikola20231102/en.
The live audio webcast, along with supplemental information, will be accessible on the Company's Investor Relations website at https://nikolamotor.com/investors/news?active=events. A recording of the webcast will also be available following the earnings call.

About Nikola Corporation
Nikola Corporation's mission is clear: pioneering solutions for a zero-emissions world. As an integrated truck and energy company, Nikola is transforming commercial transportation, with our Class 8 vehicles, including battery-electric and hydrogen- fuel cell electric trucks, and our energy brand, HYLA, driving the advancement of the complete hydrogen refueling ecosystem, covering supply, distribution and dispensing.
Nikola headquarters is based in Phoenix, Arizona with a manufacturing facility in Coolidge, Arizona.
For more information visit our website Facebook @nikolamotorcompany, Instagram @nikolamotorcompany, YouTube @nikolamotorcompany, LinkedIn @nikolamotorcompany or Twitter @nikolamotor.

Forward-Looking Statements
This press release contains certain forward-looking statements within the meaning of federal securities laws with respect to Nikola Corporation (the "Company"), including statements relating to: the Company's future financial and business performance, business plan, strategy, focus, opportunities and milestones; the Company's expectations with respect to its capital needs; expected orders and customer demand for trucks; the Company's beliefs regarding competition and that it has competitive and first-mover advantage; the Company's business outlook; the Company's expectations regarding hydrogen supply and plans to secure adequate hydrogen supply; expected scope, costs and timing related to the battery-electric truck recall, including the nature of the repairs, expected costs to repair the vehicles and timing of such expenses, and any potential offsets, timing of battery replacement and truck deliveries; the Company's sales efforts; industry tailwinds; and government incentives and expectations regarding customer demand related to such incentives. These forward-looking statements generally are identified by words such as "believe," "project," "expect," "anticipate," "estimate," "intend," "strategy," "future," "opportunity," "plan," "may," "should," "will," "would," and similar expressions. Forward-looking statements are predictions, projections, and other statements about future events based on current expectations and assumptions and, as a result, are subject to risks and uncertainties. Many factors could cause actual future events to differ materially from the forward-looking statements in this press release, including but not limited to: successful execution of the Company's business plan; design and manufacturing changes and delays, including global shortages in parts and materials; general economic, financial, legal, regulatory, political and business conditions and changes in domestic and foreign markets; the effects of inflation and COVID-19; the outcome of legal, regulatory and judicial proceedings to which the Company is, or may become a party; demand for and customer acceptance of the Company's trucks; the results of customer pilot testing; the execution and terms of definitive agreements with strategic partners and customers; the failure to convert LOIs or MOUs into binding orders; the cancellation of orders; risks associated with development and testing of fuel cell power modules and hydrogen storage systems; risks related to the recall, including higher than expected costs, the discovery of additional problems, delays retrofitting the trucks and delivering such trucks to customers, supply chain and other issues that may create additional delays, order cancellations as a result of the recall, litigation, complaints and/or product liability claims, and reputational harm; risks related to the rollout of the Company's business and milestones and the timing of expected business milestones; the effects of competition on the Company's business; the availability of and need for capital; the Company's ability to achieve cost reductions and decrease its cash usage; the grant, receipt and continued availability of federal and state incentives; and the factors, risks and uncertainties regarding the Company's business described in the "Risk Factors" section of the Company's quarterly report on Form 10-Q for the quarter ended June 30, 2023 filed with the SEC, in addition to the Company's subsequent filings with the SEC. These filings identify and address other important risks and uncertainties that could cause the Company's actual events and results to differ materially from those contained in the forward-looking statements. Forward-looking statements speak only as of the date they are made. Readers are cautioned not to put undue reliance on forward-looking statements, and, except as required by law, the Company assumes no obligation and does not intend to update or revise these forward-looking statements, whether as a result of new information, future events, or otherwise.

Use of Non-GAAP Financial Measures
This press release references Adjusted EBITDA adjusted free cash flow and non-GAAP net loss per share, basic and diluted, all of which are non-GAAP financial measures and are presented as supplemental measures of the Company's performance. The Company defines Adjusted EBITDA as earnings before interest expense, taxes, depreciation and amortization, stock-based compensation expense, and certain other items determined by the Company. Non-GAAP net loss is defined as net loss adjusted for stock-based compensation expense and certain other items determined by the Company. Non-GAAP net loss per share, basic and diluted is defined as non-GAAP net loss divided by weighted average basic and diluted shares outstanding. These non-GAAP measures are not substitutes for or superior to measures of financial performance prepared in accordance with generally accepted accounting principles in the United States (GAAP) and should not be considered as an alternative to any other performance measures derived in accordance with GAAP.
The Company believes that presenting these non-GAAP measures provides useful supplemental information to investors about the Company in understanding and evaluating its operating results, enhancing the overall understanding of its past performance and future prospects, and allowing for greater transparency with respect to key financial metrics used by its management in financial and operational-decision making. However, there are a number of limitations related to the use of non-GAAP measures and their nearest GAAP equivalents. For example, other companies may calculate non-GAAP measures differently or may use other measures to calculate their financial performance, and therefore any non-GAAP measures the Company uses may not be directly comparable to similarly titled measures of other companies.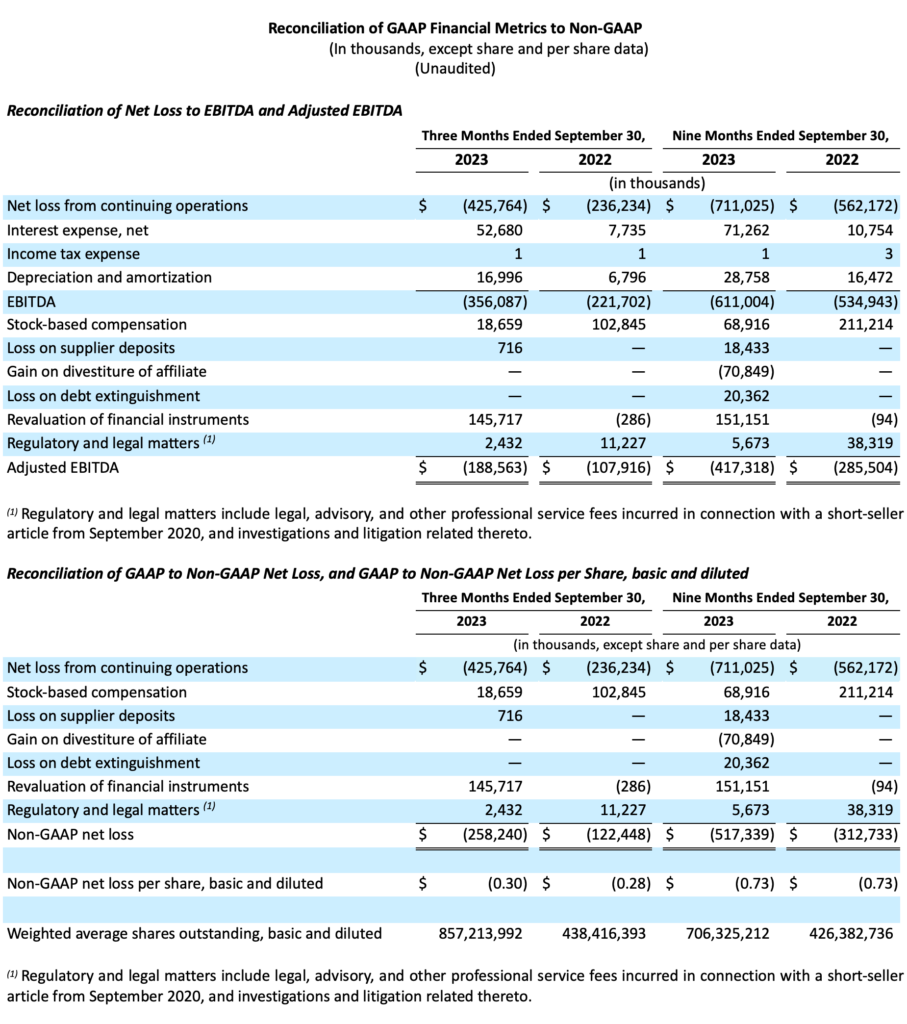 INVESTOR INQUIRIES:
[email protected]
(1) Data from California Air Resources Board; Class 8 tractors in drayage operation