The hydrogen-powered fuel cell electric vehicle for longer or continuous metro-regional applications
| | |
| --- | --- |
| WHEELBASE | 182" |
| EXTERIOR WIDTH (EXC. MIRRORS) | 103.6" |
| INTERIOR HEIGHT | 80.6" |
| BUMPER TO FUEL CELL BACK PACK | 146.5" |
| CAB TO AXLE (CENTER OF TANDEM) | 101.46" |
| REAR AXLE TO END OF FRAME | 58.8" |
| MAX HEIGHT FROM GROUND | 157" |
| GROUND CLEARANCE | 9.5" min |
| CURB-TO-CURB TURNING RADIUS | 24.9' |
| WALL-TO-WALL TURNING RADIUS | 27.8' |
| | |
| --- | --- |
| STARTABILITY | 16% |
| MAX SPEED | 70 mph |
| RANGE | Up to 500 mi 1 |
| | |
| --- | --- |
| FUEL CELL POWER MODULE | 200 kW |
| TOTAL BATTERY CAPACITY (2 PACK) | 164 kWh |
| CONTINUOUS POWER | 536 HP / 400 kW |
| INSTANTANEOUS POWER | 773 HP / 575 kW |
| CONTINUOUS WHEEL TORQUE | 12,500 FT-LB |
| E-AXLE GEAR RATIO | 21.6 |
| | |
| --- | --- |
| BATTERIES | (2) 12V 180 Ah Batteries (24V total) |
| DATA LINK CONNECTOR | RP1226 Connector |
| POWER SOURCE | 12V Receptacle & USB |
| | |
| --- | --- |
| HYDROGEN STORAGE CAPACITY | 70 kg | 62.75 DGE |
| REFUELING TIME | 20 minutes2 or less |
| STORAGE PRESSURE | 10.000 PSI / 700 bar |
| | |
| --- | --- |
| FRAME RAILS | RBM 1.2M in-lbs, Height: 12", Thickness: 5/16" |
| TOW HOOK | 1 Front – Passenger Side |
| BUMPER | Aerodynamic Body Color Bumper |
| | |
| --- | --- |
| TYPE | Sliding 5th Wheel |
| LOAD MANAGEMENT | Dynamic Weight Adjustment |
| HEIGHT (GROUND TO PIN CENTER) | 47.5" Unladen and Laden Height |
| LOWEST HEIGHT | 45.4" Manually Lowered |
| | |
| --- | --- |
| FRONT AXLE | 19,800 lbs. |
| FRONT SUSPENSION TYPE & RATING | Taper Leaf Spring, 17,600 lbs. |
| FRONT TIRES | 315/80R22.5 |
| REAR AXLE | 50,700 lbs. Tandem |
| REAR SUSPENSION TYPE & RATING | Air Spring: 50,700 lbs. Tandem |
| REAR SUSPENSION AIR CONTROL | Electronic Controlled Air Suspension |
| DIFFERENTIAL LOCK | Pneumatically Operated |
| REAR TIRES – E-AXLE AND TAG AXLE | 275/80R 22.5 |
1Range estimate was calculated using data obtained from Nikola proving grounds testing, real-world vehicle operation, and computational-based engineering and validation tools. Actual range will vary based on several factors including use case, vehicle characteristics, driver behavior, and environmental conditions.
2Based on vehicle capability. Actual refuel time will vary based on characteristics of the hydrogen fueling location, including fueling hardware and software protocol, fuel quantity, and fueling conditions.
PROPULSION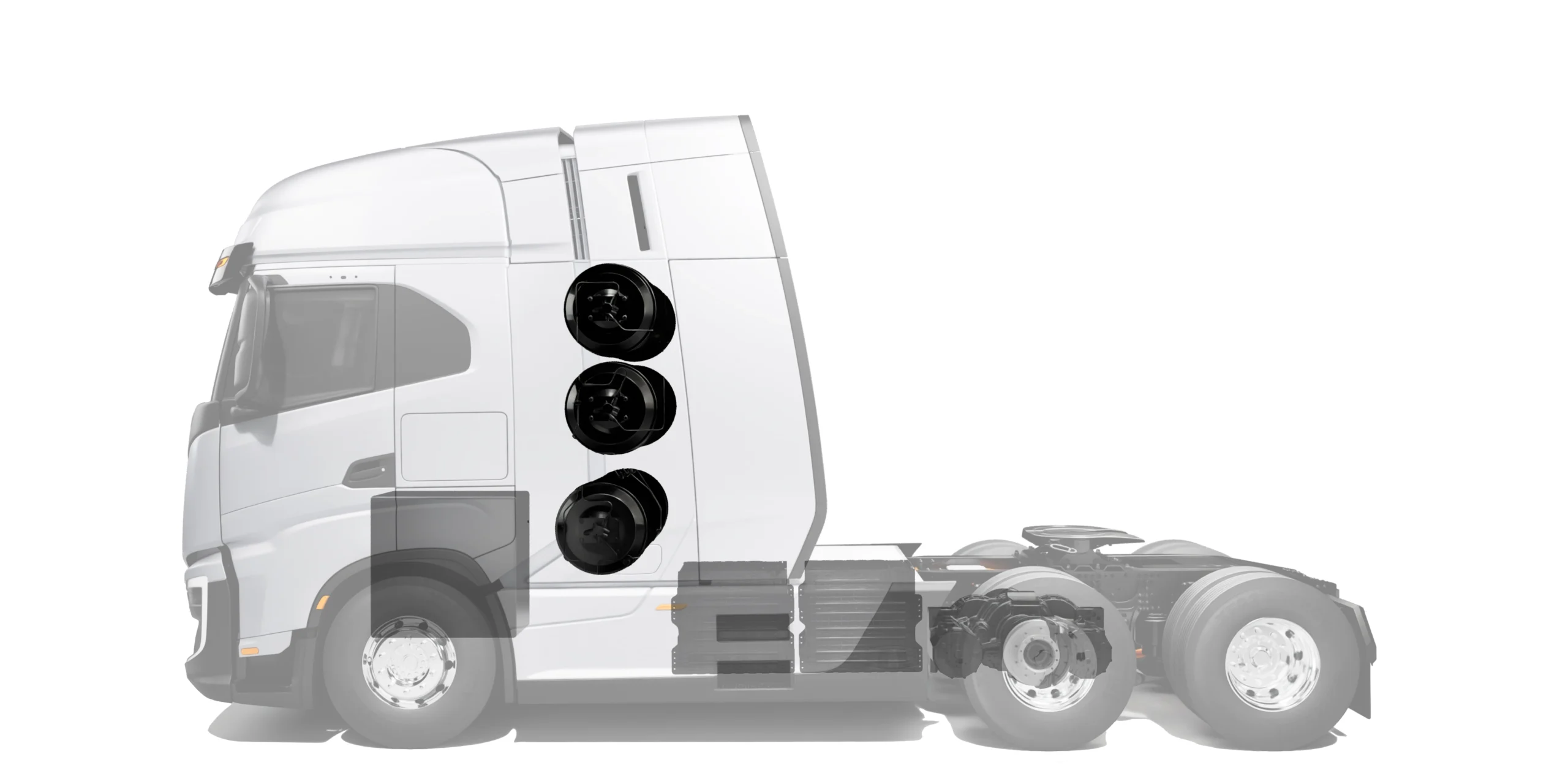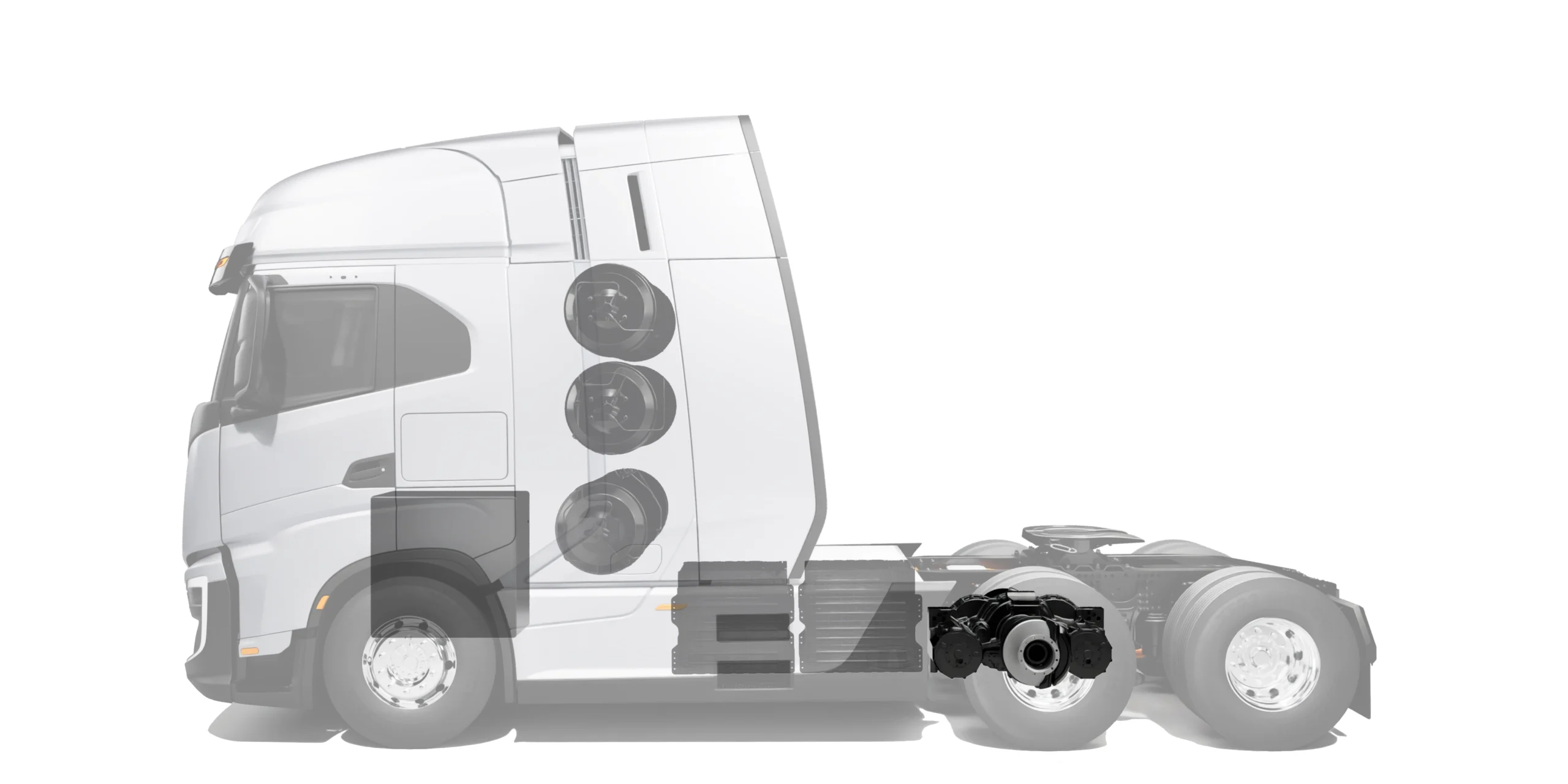 Hydrogen Storage
Safely stores hydrogen to power the vehicle.
Fuel Cell Stack
Converts hydrogen into electric power by combining it with oxygen.
Battery
Supplements hydrogen power from the fuel stack for acceleration and captures energy through regenerative braking.
E-Axle
Utilizes electric energy from the fuel cell stack and battery to generate motion.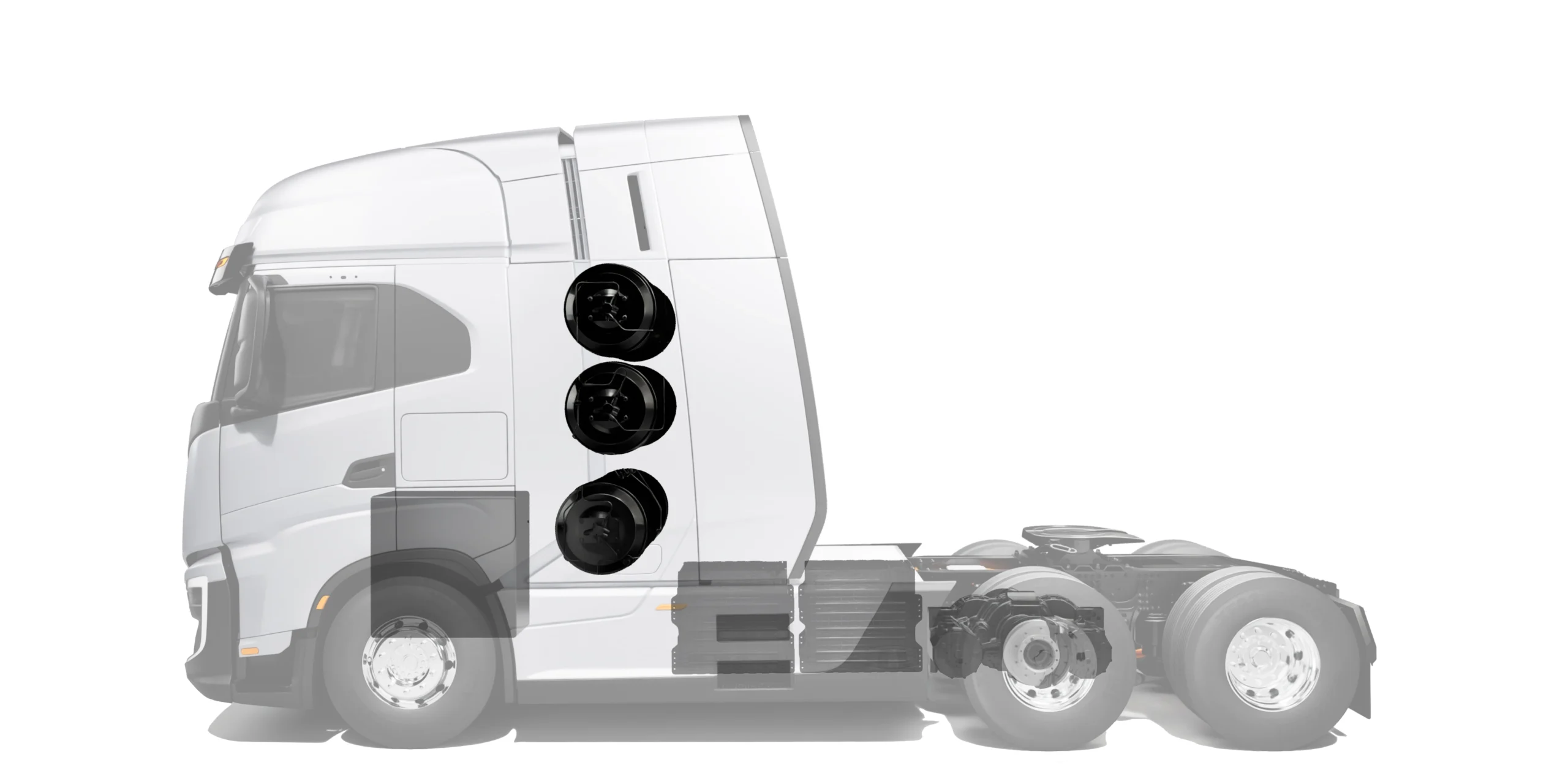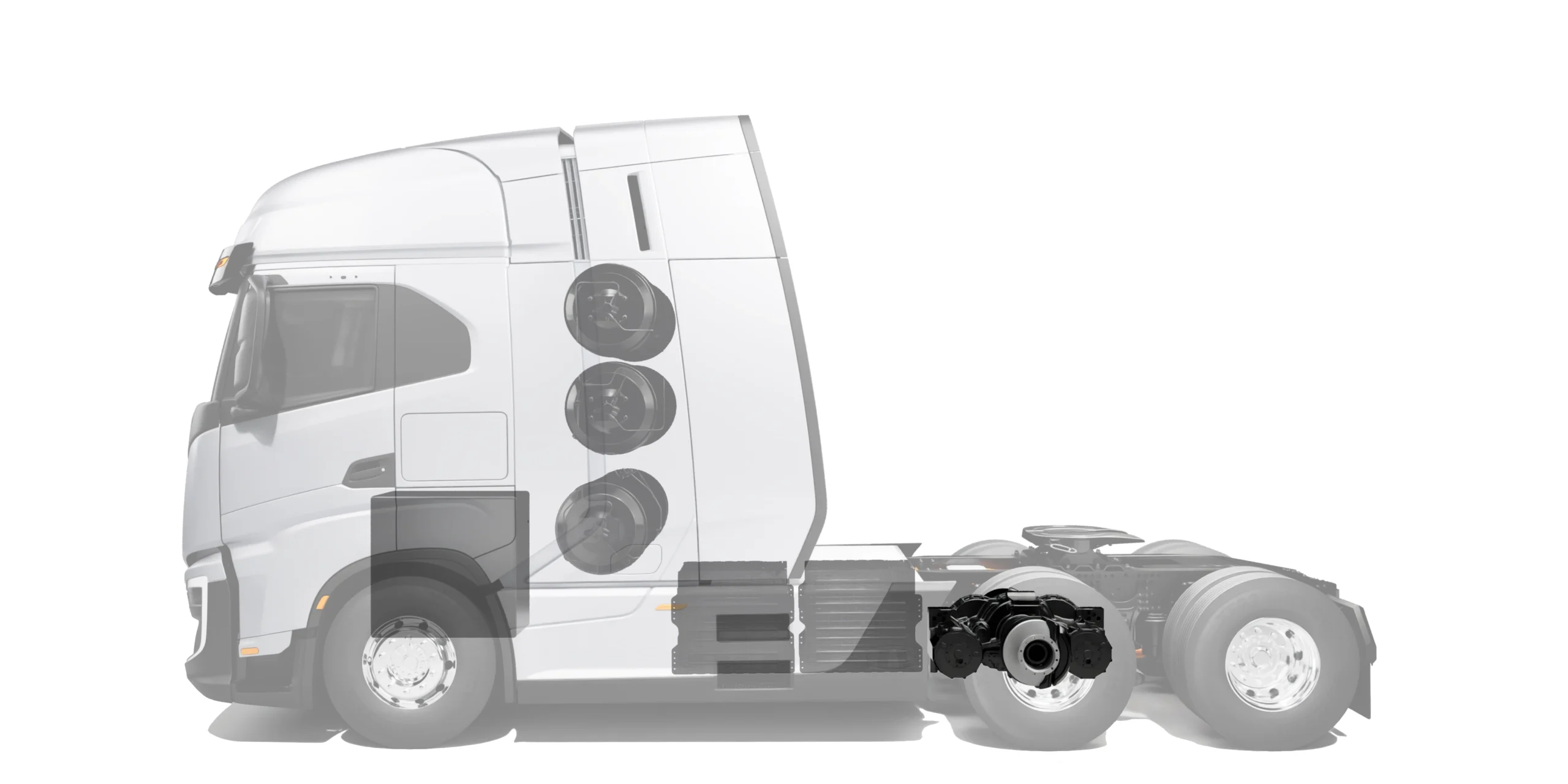 Fuel
up
A BUNDLED LEASE SOLUTION THAT MAKES YOUR TRANSITION EASIER.
Fuel up on opportunity. Our simplified, full-service lease program lowers the total cost of ownership (TCO) and keeps lease rates fixed, regardless of fluctuating fuel prices. One monthly payment covers the truck, the hydrogen fuel and the maintenance to achieve a competitive TCO.
What do you want to know about FCEVS?
We currently offer lease and direct purchase options and are happy to discuss how we can support your financing needs.
Incentives are available in multiple states, here is a link to learn more
Our Coolidge, AZ facility will be the primary production facility for the North American Market.
Nikola trucks can be purchased through our authorized dealers.
Electric HD vehicles have fewer moving parts and may require less maintenance. This is currently the case in electric passenger cars and buses, so it is plausible that the same will be true with HD trucks. Without an emissions or fuel delivery system, transmission or driveline, the core mx component items have been drastically reduced which should translate to reduced mx.
We have partnered with a world class logistics provider to support, supply, and deliver parts efficiently to minimize downtime.
For Nikola vehicles, both are based on an electric drivetrain. The difference is the system responsible for generating the electric energy (batteries for the BEV; hydrogen fuel cells for the FCEV) that powers the electric drivetrain.
Our truck rides very smoothly with instant power and acceleration. You do not feel the shifting through the gears and it is much quieter than its diesel equivalent. Another difference is regenerative braking which is used both to slow the vehicle down and generate energy that goes back to the battery to assist with range.
Every modern battery system experiences some degree of degradation over its life cycle which can impact the range of an associated vehicle. We strive to limit the impact of battery degradation on vehicle range through the engineering of our vehicle systems and note that proper vehicle operation and maintenance are key to maximizing battery system life and vehicle range.
ARE YOU READY TO TRANSITION YOUR FLEET?
Thank you for submitting your information. We will be in touch shortly.